Healing with Arn and Dwaro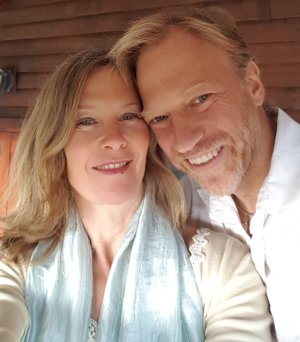 The very best, most complete healing service that I can possibly offer at this point: engage my healing gifts combined with those of my Twin Flame, Dwaro. Get two great healers, with perfectly dovetailed skills, working with you to bring radical positive transformation to your life!
What it is
The basic healing package consists of a 30 minute consultation session followed by four healing sessions of an hour each.
When you book your package, Dwaro will do a brief preliminary psychic reading to get a rough overview of where you are at and what will best serve your journey. Depending on her findings, you will then have a consultation session with just me or with both Dwaro and I.
The consultation session is a discussion. You talk about your situation and your life. You share what it is that you feel ails you… or what you would like to achieve in our time together.
Then you will have an hour-long session with Dwaro in which she will give you an in-depth reading and offer guidance and healing.
Dwaro has this to say about this session:
Prior to your session with me, I spend about half an hour in deep meditation during which time I find I am gifted with numerous intuitive insights into your life situation. I am shown those areas that need to be addressed to bring you deeper healing, growth, expansion and joy.

During the session itself, I hold a sacred space for you in which I share what I was shown and help you to bring positive change to your life. The specifics of this will vary widely depending on your unique situation. Instant transformation and healing is possible, and happens more often than you might expect. Where this is not possible, I will offer you guidance as regards practical steps that you can take to bring transformation to your self in such areas as lifestyle choices, thought patterns, relationships, work situations, etc.
Dwaro will also share your reading with me for use in offering you the very deepest Soul Re-Integrative healing possible in your second session. What happens in the third and fourth sessions will depend entirely on what will best serve your healing and awakening.
What Can We Help With?
With Dwaro and I working in tandem, there really is very little we cannot help with! The question is not so much what WE can work on… the question is more what you are ready to be helped with. Because in truth, the only real, lasting healing you will ever experience will be done by you, yourself. Only when you change can your circumstances change. And only then will you achieve permanent relief from whatever it is that ails you. But if you are stuck in your situation it can make the world's difference to have a skilled practitioner to help you to find the deepest origin of that pain and to help you to come to the correct transformations that will result in the release of that pain. And we are both such skilled practitioners.
And, indeed, it might also be that you find yourself in a place in your journey that it is not pain that is motivating you but something else. Curiosity. Love. Excitement. A desire for spiritual growth. It is a joyous thing to work towards self-discovery and expansion. To transcend blockages and limitations before these even begin to cause distress. In this regards, Dwaro and I help are each other's energy workers: we constantly assist each other's spiritual expansion. As we, together, could assist yours!
Why work with both of us?
I have always made it clear that I don't offer a "psychic reading" service as a part of my healing offerings. I don't tell you what is true about you. Rather I help you to find your own truth and guide you to use what you find to bring healing to your soul. While this has worked very well for me up to now, I have often had the sense that it would take my healing offering to a whole higher level if I were to partner with someone with great psychic skills. That my skills, in combination with their deeply intuitive knowing would be a truly magnificent healing combination.
And, similarly, there are various other areas that I am not proficient in that I have sometimes thought it would be great to work with another practitioner.
But where would I find one person with the full range of complementary skills?
And it would have to be a pretty special someone too; someone I would trust enough to allow them to work on MY being and have them be my own healer. And I would have to feel incredible sympatico so that we would always comfortably work together to serve the Greatest Good in supporting your healing and spiritual awakening.
I honestly did not believe I would ever find such a person.
And now I have!
Dwaro is, you see, my Twin Flame. That is to say, we share a single Spirit origin and will again return to Oneness together. You could say we are two expressions of the same ultimate Beingness (I am producing a blog series about this if you are interested in knowing more).
Not only do we share the same essence but in both of us it finds expression in the same kind of healer spirit. But because our soul journey's are quite different, we have developed entirely different skills and abilities to serve our drive to heal and to help. And now, as we find each other again in this lifetime, we find these talents to dovetail perfectly in magically complementary fashion.
About Dwaro
Since you are on my website, you probably know a bit about me (if you don't please feel free to read more here). So here is a brief introduction to Dwaro:
Dwaro is a gifted clairsentient healer who brings more consciousness and more love to your life through her work.
She has been practicing her healing arts for nearly three decades and has earned a solid reputation for having a truly extraordinary gift.
Since age 16 Dwaro has been engaged in an intensive process of self-discovery, self-healing and reconnection with the Divine. Her spiritual journey has been utterly central to her life resulting in her attending a great many workshops and seminars in which she was exposed to a vast array modalities and processes which she integrated into her self-healing processes and, naturally, also offers you in support of your healing. Dwaro is also a trained counsellor.
Dwaro's other deep interest in life include:
Meditation and Stillness
Animal Communication (which she also does professionally)
Yoga (practicing and teaching for more than 20 years)
Nutrition and body awareness
Dwaro's hobbies include martial arts (she holds a 1st Kyu belt in Goju Ryu Karate), horse riding and the higher principles of Dressage.
How to Book Your Healing Sessions
Begin by selecting the required offer below and completing the PayPal transaction. I will then be in contact with you to schedule your preliminary consultation appointment at a mutually convenient time.
First time clients must take a full package. If you are unsure and wish to begin with a consultation only, then this is available below as a separate offering.
Skype Call
The easiest and most cost-effective mechanism for this interaction is a Skype audio call. If you do not have Skype installed on your computer please download it for free from their website.
Basic Package: Consultation + 4 Healing Sessions

As discussed above - first a consultation of 30 minutes to be followed by four Healing Sessions of 1 hour each with either (or both) Dwaro and I.

Cost: $580.00

NOTE: I will be automatically notified once you have concluded the PayPal transaction and will contact you within 24 hours to arrange your first session.

Consultation

A 30-minute consultation session with Arn for those who feel they need some discussion before comitting to the above package.

Cost: $50.00

NOTE: I will be automatically notified once you have concluded the PayPal transaction and will contact you within 24 hours to arrange your session.