A 1-on-1 personal experience with you (and perhaps your friend or partner) and Zingdad in South Africa!
The spiritual adventure of a lifetime awaits you in the warm heart of Africa!

Discover the power of your divine, limitless self

Remember who you REALLY are and why you are REALLY here

Heal your pain, blockages and limiting beliefs

Return home with the tools to transform your life into joyful, blissful abundance

Lovingly guided every step of the way

by internationally acclaimed author, healer and facilitator, Zingdad

...all from as little as $315 per day!
Imagine getting on an airplane, flying to South Africa, and having me collect you at the airport... and from there you have not a single thing to think about or concern yourself with other than deep spiritual engagement, growth and discovery.
Imagine I drive you to a gorgeous, fully equipped little cottage high in the forests near my own home. Imagine you're staying there for a week or two. In the morning, I join you for the most mouthwatering breakfast, specially prepared for you by a trained chef. All your meals are made from scratch from the freshest, locally sourced, organic ingredients and are tailored to your health needs and tastes.
And while your body is being nourished... so is your soul. Imagine, after breakfast we begin an inwards journey together. Imagine where we could go together if we had all the time and space to do it. Imagine the healing we could do together. The discovery. The growth. The awakening. Imagine how we could connect you to your magnificent, eternal Inner-Self. Imagine how we could meet and work with your guides. Your body-spirit. Your past-lives. Your soul-family. Healing your Shadow. Discovering your authentic power. Finding your Great Gift.
Imagine the great work we could do together, you and I, on our adventures "inwards" into your own psyche.
And our adventures could also be "outwards". Imagine how it would be if, after after each morning's soul-deep-processing, we went exploring together. We could go walk with the Elephants. Really, literally walking next to Elephants; touching them. Communion with these great gray spirits of the forest. Or you could get to view Africa's big cats - up close and personal. Or walk around amongst monkeys and apes. Or we could go strolling on the endless beaches nearby. Or for a hike through the ancient pristine forests this area is renowned for. All the while deepening our discussions. Processing the morning's inwards journey... preparing for the next day's transformative interaction.
Come and touch the heart of the Oneness with me!
... And then return home, utterly transformed!
---
Here are the details:
Accommodation
You will be staying in a delightful, peacefully secluded cottage in a forest setting overlooking a picturesque lake that is visited by water birds and roaming deer.
The cottage is fully equipped and self-catering with two beds. As comfortable and airy as it is, its best feature is its beautiful natural surroundings and the tranquility in which you will be enveloped.
Here is a view of the cottage from across the dam:

And here is a picture (taken by Dave, one of my spiritual Safari guests) from inside the cottage, over the deck: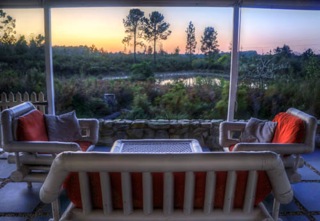 Meals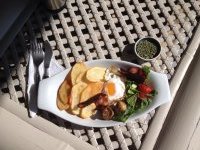 Breakfast and dinner are prepared by a trained chef. You'll be eating truly delightful meals prepared from the very freshest, locally sourced, organic ingredients. Truly the food will be a treat!
To the left is a picture (taken by Spiritual Safari guests Wende and Karen) of one of their mouthwatering breakfasts.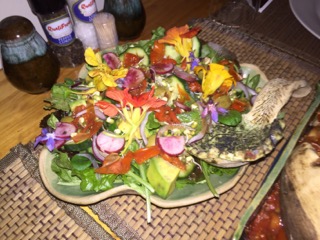 ... and this is a picture of a spectacular salad prepared specifically for the dietary needs of Linette (another of my spiritual Safari guests) .
Lunch will be provided, depending on where we are at the time (we will usually be on some adventure or another at lunch time!)
Transport
Airport transfers and all other transportation will be provided.
Spiritual Retreat
Morning Meditations - Each day will begin with us sharing a mediation (guided or otherwise) on the patio overlooking the placid lake. This will be an ideal opportunity for you to learn about meditation or to greatly deepen your personal meditative practice.
Adventure Inwards - After breakfast we'll settle down for (about) four hours of structured spiritual engagement. The specific content of this structured time is to be discussed and agreed upon before your arrival. The point is that there will be a "curriculum plan" that we will follow to ensure that the desired growth and exploration is experienced. Though this is the "work" of each day, it is guaranteed to be experienced as both exciting and enjoyable, as well as stretching and challenging.
Adventure Outwards - After the morning's spiritual journeying, we will jump into the 4x4 vehicles and head out for a day's "external adventure". As we drive, walk, visit exciting destinations and commune with nature, we will continue to enjoy unstructured spiritual interactions and discussions. This "time out" is essential to permit you to "percolate" on the intense experiences and intensive information delivered in the structured time. You will find the space and time to process the material, all the while having me on hand to discuss your processes and journey.
Adventure options will be presented to you for your choice during your stay. Some of these include: Getting up close and personal with Africa's wildlife as we walk with, and feed, elephants at the Knysna Elephant Sanctuary, walk amongst the birds and primates at World of Birds and Monkeyland, have close encounters with big cats at Jukani Wildlife Sanctuary (these are all world-renowned facilities offering truly amazing encounters in a best-practice, ethical setting). We could also abseil from treetop-to-treetop at Treetop Canopy Tours. Or take long walks on the unspoiled beaches of this area and in the ancient forests that are alive with birds, deer, monkeys, baboons (and even Elephants)… these are just some of the many and varied local attractions that I would like to share with you.
We will also visit and chat a great deal - for example on fine nights outside around the campfire.
Here are some of my past guests' photos taken on exactly these activities: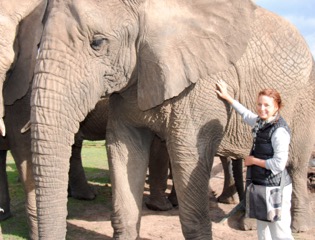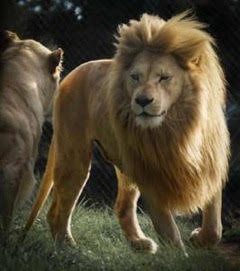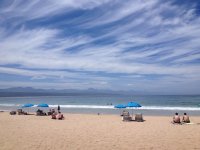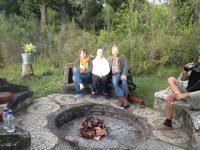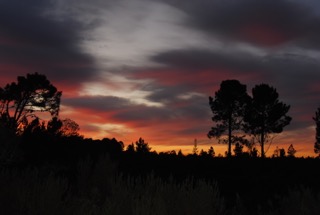 Optional Extra Experiences
In addition to all of the above, there are many, many wonderful optional experiences that you can enjoy locally. I will be happy to recommend and facilitate these, but they will have to be booked and costed separately. These include Yoga, Movement Medicine, Thai Massage, Reiki, Nia, kinesiology etc. Such body work will wonderfully complement the spiritual journeying that you and I will be doing together. There is also delightful curio-type shopping in the area, so that you might take some authentic African mementos back home with you.
Stay longer: If you wish to arrive earlier and/or stay longer in the cottage after your Safari with me is concluded, then you may do so (pending availability). Let me know and we can arrange this for you (with or without meals) at an extremely reasonable rate.
Dates
Only four Spiritual Safari's are offered each year and these are booked out on a first-come-first-served basis. At this point the following dates are still available for 2018:
1. Any time in the first two weeks of March 2018
2. Any time in the first two weeks of November 2018
Costing and Packages
While every single detail of your trip can be customized to your needs, in order to give you a clear idea of what kinds of experiences are on offer, I present to you the following 10-day package. It is entirely possible to personalize a longer or shorter package for you. Please do contact me via This email address is being protected from spambots. You need JavaScript enabled to view it. or web-form to discuss your requirements and preferences.
7 Days African Spiritual Safari
$315 per person, per day, sharing / $425 per person per day, single - ALL INCLUSIVE
This is the total, all inclusive cost. Excluded is only your airfare (and optional extras that you might wish to purchase, such as curios or other optional experiences).
Included is everything you need to have this experience once here: accommodation, local transport, meals, scheduled entertainments and entrance fees.
You are guaranteed loads of personal attention with me as I will not be lumping you in with another group. You (and those you bring with you) are the entire group. And I will (within reason) make myself exclusively available to you (your group) for the duration of your Spiritual Safari.
Please ask about options for groups of more than two people. There is a second two-bedroom cottage. So groups as large as 6 to 8 can comfortably be accommodated and additional discounts for larger groups can be negotiated.
Ready to do this?
If this sounds like something you need in your life right now, then the steps are quite simple:
1. Contact me to arrange your dates.
2. Contact your local travel agent (or go online) to find and purchase air tickets. You will need to land at George Airport, South Africa (IATA code: GRJ).
3. Confirm your booking with me with a 50% deposit. Then everything is booked!
4. We will then discuss the finer details of your preferences, options and choices for your personalized Safari. I'll also give you specifics about what to bring (appropriate clothing, sunscreen, that kind of thing) so that you can pack right.
5. Make sure that your Visa (where necessary) and Passport are in order.
6. Pay the remaining 50% for your Safari any time before your arrival.
7. Get on the 'plane to South Africa in time.
After that everything else will be in the competent, caring hands of my Spiritual Safari team. We'll take care of you like gold and you'll have an awesome time with nothing to think about other than extracting the most out of every experience and maximizing your own growth.
And it all begins with Step 1: This email address is being protected from spambots. You need JavaScript enabled to view it. OR contact me via webform
Review 1: Scott's Spiritual Safari
Scott from Texas, my first Spiritual Safari client, left this review. He also links to a blog series in which he courageously and honestly shares the detailed experiences of his spiritual journey with me.
The week I spent with Arn transformed my life, healing deep seated hurts and beliefs. At the end of this review, I will post a link to my blog, which goes into the details of my background, the amazing journey Arn and I took, and how this healing changed my life. Suffice it to say that Arn possesses incredible intuitive ability to guide during the healing process. Actually being there, without outside distractions, was exactly the focus I needed.

As Arn says on his web site, everything outside of airfare to/from George Airport was taken care of, from transportation to all meals and to all the healing guidance. We did eat out a few times (which he paid for), but most meals were prepared by Fiona, the wonderful chef and owner of the cottage I stayed at, called Tree Spirit Cottage, which is located only a few miles from Arn's place. The cottage rental and meals were all included in the price. You can read my review of the cottage here (http://www.budget-getaways.co.za/accommodation/tree-spirit-cottage, and look for Scott). It was a perfect setting for my journey.

As for Arn himself, he was a very easy going, informal person, and treated me like a friend. I immediately felt at home. He tailored my healing to my exact needs, and outside of healing sessions, we spent many an hour talking about spiritual things, taking walks, and spending time in the wonderful company of Fiona, Lisa (his lady love), and their neighbors. We had such wonderful conversations together. The best way I can describe it is visiting a good friend with the benefits of healing your soul. Plus, the Gouna Forest (where Arn and Fiona live) is beautiful, and the stars at night are unlike anything I had ever seen (being from a big city in America, I don't see many stars to begin with).

This is serious, real healing on a very deep, yet informal, level.

You can read about my personal inner journey during this time at: http://merxyn.com/soul-awakening/.

- Scott from Texas
Review 2: Wende & Karen's Spiritual Safari
Wende and Karen from California visited next. You are invited to read about their Spiritual Safari (with pictures) here.
Arn's the Real Deal! Here's where other teachers turn for their own growth.
Arn doesn't tell you what to do. He connects you—or strengthens your connection—to your own Guides and Higher Being. He helps you open the door and gently shows you how to peek inside to see if you want to enter... and you're reintegrated with fragments of your Self that you welcome Home with Joy!

This is Real Permanent Eternal Transformation

- Wende from California
I have come away transformed!



It is a long trip from California to South Africa, and the experience is worth every minute. I hope some day to return, not just for the abstract and sublime but for the friendships formed in the forest. Thank you, Arn, for opening up this possibility!

- Karen from California
Review 3: Ben's Spiritual Safari
Ben visited me next from the UK. You are invited to read about his Spiritual Safari (with pictures) here.
I can easily say this was the most valuable and transformative week of my life!

- Ben from England
Review 4: Ken's Spiritual Safari
Ken visited me next from Connecticut. You are invited to read about his Spiritual Safari (with pictures) here.
Arn knows well of what he speaks. He has a deep understanding of all aspects of Truth through his rich and colorful experiences, and has a wonderful, colorful and eloquent way of expressing himself. It was an experience with an an other that I had never had before.

I would highly recommend Arn's spiritual safari for anyone who is looking to get a better understand of who they Truly are. As Arn would say, go with your heart. Just as it did with me, there is no doubt it will provide you exactly what is right for you.

- Ken from Connecticut
Review 5: Dave and Linette's Spiritual Safari
Dave and Linette are cousins who traveled together to come on Spiritual Safari with me. Dave is a great photographer and took some wonderful pictures during his stay. And you can read about Linette's Spiritual Safari (with pictures) here.
Having the opportunity to experience a Spiritual Safari was truly the awakening my soul had been longing and waiting for, for a long time.

The afternoon excursions to nearby parks were lighthearted, so fun and and yet provided me time to process the mornings dialogues; allowing the truths to find their new residence within me.

My spiritual safari with my cousin, David, and Arn was intense but exactly the safe place I was hoping to experience in seeking a deeper more satisfying life story. I'm filled with gratitude!


- Linette
Now It's Your Turn
If you are ready to share in experiences like these, then you can This email address is being protected from spambots. You need JavaScript enabled to view it. OR contact me via webform to begin planning and scheduling YOUR Spiritual Safari!