New & Exciting
The latest - and most exciting - additions to this website include: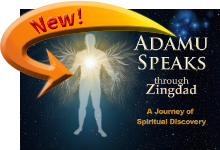 These Adamu articles that are causing a lot of excitement...
1. An Open Letter to Pleiadian Starseeds
2. An Open Letter to the Illuminati Bloodline Families
4. Adamu Offers a Full Political Briefing… Including the Coming Financial Reset… and the American Elections!
5. The American Elections - A Perspective Offering Hope and Excitement from Adamu
6. The False Political Dichotomy of Left Versus Right - An invitation from Adamu
7. The Starseed Contract and Planetary Ascension
---
The latest blog article is:
Triggering - And what to do about it!
---
And the whole "About" section is new with new articles...
Firstly the questions people frequently ask me about me:
An Introduction to Arn "Zingdad" Allingham
Then a fun but enlightening questionnaire that you can use to discover:
And then find out all about: