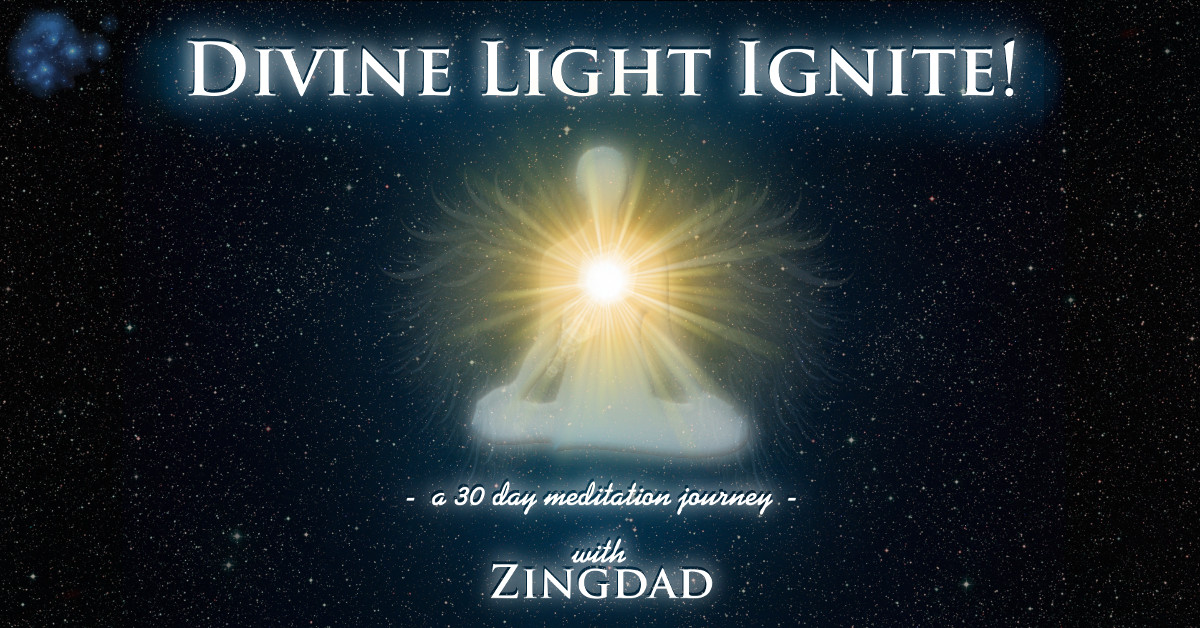 Introduction
Why meditate?
Deep relaxation, improved concentration, discipline and awareness.
Decreased anxiety, depression, and negativity.
Increased mindfulness, liberation and even... enlightenment!
All of the above, and many more, have been touted as some of the amazing benefits of meditation.
You've probably thought that you should give it a try sometime. Experience some of the great benefits for yourself.
So you sit down, close your eyes and try to clear your mind. Try to focus on your breathing...
...and realize within seconds that this is JUST NOT GOING TO WORK!!
A million thoughts keep popping up and your mind keeps wandering off on a tangent. Besides...
You're just too busy
You've got too much on your mind
You don't have the necessary focus, concentration or determination
And so, with a sense of failure, you give it up.
Well, you don't need to despair. Help has arrived!
DIVINE LIGHT IGNITE! is a 30-day Meditation Journey with Zingdad suitable for everyone from beginners to meditators with lifetimes of experience wishing to bring new depth to their practice.
Begin today...
... and very soon you'll be experiencing for yourself the amazing benefits that this practice can bring.
But, even more importantly, you will be learning to access your own inner Divine Light.
It's simple, it's quick and, best of all, it's completely FREE-OF-CHARGE!!!
Below you will find 30-days worth of material. Each day I offer you a bit of text to introduce you to the day's practice and then either audio or a video, whichever you prefer, to guide you on that day's meditative journey.
If you are still looking for inspiration to get going, check out this informative blogpost about the many benefits of meditation. Or jump to a selection of reviews from others who have previously completed this journey here.

Divine Light Ignite
Access Pages
Please click on the links below to find the material for the listed days...

Some comments from participants in the first Divine light Ignite journey (May 2019)
I have not found anything else during my search for meaning as profound and genuine as your 30-day series of meditations. This journey in meditation has offered me a reason for existence. Particularly poignant for me was participating in a circle of like-minded people. (Julie)
You are such a wonderful teacher. This was a real gift for me as I actually felt the divine in me for the first time, so much so that on several occasions I found it difficult to stop meditating, such was the bliss. (Anita in Switzerland)
You have been skillful and consistent with the beginning of Divine Light Ignite by establishing the breath, developing the chakra centers, combining the chakra(s) into One, and showing us (pointing us to) how to create the Garden of the Heart, among many other joyous jewels. ... you are in fact teaching us how to teach ourselves by pointing the way to our inner-self... Shawn (USA)
Thank you for all the beautiful gifts that you have shared with us. I am ever so grateful. I love your 30 Day meditation program. I would eagerly await each day to participate. I truly feel it has moved me to understand more of this existence. You are such a beautiful soul. (Audrey in USA)
Thanks so very much for this beautiful opportunity. It was generous and courageous of you to offer so much of yourself with us over the past month.

Every morning as I woke early, I looked forward to the next day...

I am a meditator and have a relationship with the Divine on a daily basis.

I am also a therapist, your breathing techniques have deepened my work with my clients over the past month. (Leigh in Australia)
I have thoroughly enjoyed your Divine Light Ignite series. Listening to your sweet, calm, voice... was enough to start my day on a fine course, augmented, of course, with your wonderful daily messages.

(Carol in USA)
That was an amazing experience. (Jan in USA)
The technique you taught us is so easy and so effortless that I can do it anytime I have a quiet moment. (Christiane)
Thank you for all the time and effort you put into creating the 30 Day Meditations... You have given a wonderful example and now it is up to me to continue... (Fay)
I would just like to express my deep gratitude and appreciation for guiding us on that journey. I will miss that bright light in my inbox I've been receiving the last 30 days. (Howard)
As each day of meditation was practiced, I gained a greater insight and understanding within myself. As to the description of the journey traveled, one could imagine feeling right, safe and secure, resonating with the guide and Divine Light itself . Not alone, far less fear and objection. Thanks for caring enough to share this 30-day meditation boot camp and guided meditation journey within the self, to us other-selves. (Tien-I in USA)
I have really enjoyed this series. I'm sort of using some of your ideas (along with a lot of my own) to build up my practice. (Michael)
Wow, what an awesome experience. It's what I needed to commit to regularly meditate again and what is more I have moved beyond the "heights" I managed before. (Bettee in South Africa)
What a pleasure to read that we can meditate while doing chores... Thank you so much for all these days, for your teachings, your light on this subject...

(Olga in France)
I feel as though I am more in the moment of Now... Being within the flow... feels right and resonates... Things seem more transparent and brighter or lighter. Thanks so much for your time, effort and sacrifices to make available these incredible meditative journeys. (Shawn in USA)
Good morning! I just have to say that this has been a wonderful process and each new day brings such astonishing and wonderful gifts. I'm waking up now an hour earlier (4:30am) apparently in anticipation of the new opportunity to ignite the Divine light! (Carrie)
I've really enjoyed your Divine Light Ignite... my early morning meditations with you helped me to manage a challenging situation... (Leigh in Australia)