Create Yourself, Create Your Life
a 30-day experiential guide to divine awakening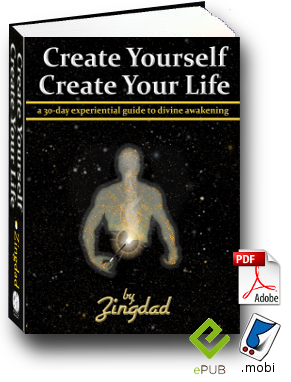 You know that wonderful feeling that washes over you when you really get something profound? When a realization lands and you have one of those "oh my God, yes!" moments?
These are the moments when the path on your life-map takes a turn for the better. This is when you change your beliefs in a way that brings your life greater joy, peace, harmony, love, success or happiness. What we're talking about is getting something that allows you to let go of a blockage or limitation… getting something that allows you to make a leap to a new way of being that brings greater flow to your life. This is when you set your soul free to find and express a more authentic version of self.
Those are treasured and beautiful moments to be sure!
Now, can you imagine having AT LEAST ONE such an awakening moment every single day, for the next 30 days?
Can you imagine if they were not just random awakening moments but if each one of those moments built upon the last one to carry you forward to ever accelerating self-realization?
What would you discover and where would you go on your inner-journey if that were the case? Certainly somewhere very powerfully liberating! At least to the full awareness of your own creator nature and your essential connection and oneness with the all. And once you have experienced THAT level of enlightenment what would you do then? How would your life change? What would you create next?
Would you like to find out?
You can! Because this is exactly what I am offering you here… 30 days, each day packed with experiences that will carry you rapidly forward to the transition of your awareness to the discovery of your own dazzling, magnificent nature. You will learn to create yourself and in so doing discover how to create your whole life. And SO MUCH more than that! Discover, create, receive and give joy, love, gratitude, acceptance and oneness. A massive awakening lies ahead of you every step of the way for the next 30 days.
And the best thing is you will find it really FUN to do. It's certainly not necessary to wade though tons of heavy theory to get these awakening moments. No one is going to be lecturing you with esoteric teachings. Really, anyone can do this! And everyone that's been on this journey thus far has reported back to me that they LOVED doing it.
What you will be getting:
1. An e-book. You'll get a comprehensive, yet fun and easy-to-read, e-book that will guide you every step of the way. I'll tell you exactly how to create the perfect opportunities for daily growth and awakening. Each and every day there is a detailed "what to do and how to do it" for that day that you can follow.
Your purchase will actually include THREE versions of the same e-book. You'll get Create Yourself, Create Your Life:
1. As a PDF file for those that wish to read the book on computer screens, formatted like a print book. This is the most attractive version.
2. As a MOBI file for those that wish to read the book on a Kindle device. Kindle is very limiting with regards to formatting and so this is, consequently, the lease attractive version.
3. As an EPUB for those that wish to read the book on an e-reader other than a Kindle (such as an iPad, Android devices, Sony Nook etc). This version is very attractively formatted whilst still being reflowable.
2. Two guided meditation recordings. To make matters even simpler and clearer I'm also including two guided meditations, in MP3 format, that show you exactly what to do in your daily meditations so that you won't have any confusion. This is a great bonus for beginner meditators!
3. Optional 1/2-hour one-on-one consultation. As an optional extra you can also add some one-on-one time with me into your package! Because I want to make sure you get every bit of value out of this 30-day journey, I'm offering you a discount off the usual price of a half-hour consultation session with me so that you can have a question-and-answer session with me and discuss any blockages or difficulties that you might be having.
So now you choose! Which package suits you best? Click on the item of your choice below to go to the sales page...
Create Yourself, Create Your Life

a 30-day experiential guide to divine awakening

including two guided meditations

Price: $15.00

Please note: I will email you with your ebook and meditations within 24 hours of your purchase

___________________________________________

Create Yourself, Create Your Life PLUS!

a 30-day experiential guide to divine awakening

including two guided meditations

PLUS a 30-minute consultation session with me (value $50)

Price: $60.00

Please note: I will email you with your ebook and meditations

and to make arrangements for your consultation within 24 hours of your purchase