Dear Yoni
by Lisa Picard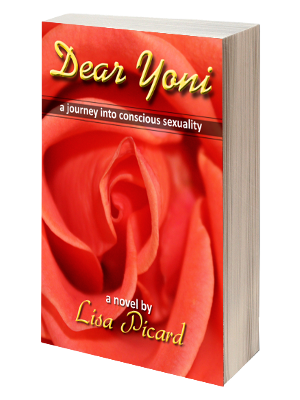 DEAR YONI is a novel about a young woman's journey from unconscious, to conscious sexuality.
DEAR YONI is written in the form of a pillow book: an intimate collection of letters and memories written by our heroine, Jessica, as she tries to make sense of her relationships, her sexuality, her experiences and her life.
DEAR YONI is light-hearted, funny and irreverent. Sometimes it's naughty... sometimes downright scandalous! It's also uplifting and often deeply touching.
Is DEAR YONI for you?
Have you ever felt a deep yearning for something more in your sex life?
More intimacy, a deeper connection, a desire to be completely seen, and met, by your lover, on every possible level?
Have you ever thought, just like the main character in this book does, that there surely has to be more to sex than simply a mutual scratching of an itch, or a momentary, short-lived release?
Do you yearn to connect your sexuality with your spirituality?
Do you feel, on some soul-deep level, that there could be something deeply sacred about your sexuality? Something that remains forever tantalisingly out of reach in 'normal' sexual interactions?
Then this book is for you.
Because, as you will discover, there really is much, much, oh, so much, more to sex!
Join Jessica, our young protagonist, in her search for deeper intimacy, connection and meaning. You're sure to have a lot of fun... and possibly learn a thing or two along the way!
Meet the Author
I interviewed Lisa when the podcast was first being released. View that interview here.
Available in Ebook, Audio Podcast and Paperback
Ebook
Dear Yoni is available in all ebook formats. You may purchase it here below in PDF format. It is available in all other formats (Kindle, EPUB, etc) from Smashwords.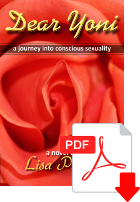 Dear Yoni
PDF format
$9.99 USD
I will email your ebook to you within 24 hours of your purchase
Audio Podcast
You are invited to listen to the audio version of this book... delightfully narrated by Lisa herself! Visit the book's website here to begin listening right away totally FREE! And while you are there you may also view Lisa's video blog as she discusses the themes raised in the book.
Paperback
The paperback version is in production right now and will be released soon. Please do sign up for my free newsletter to be updated when it becomes available.