Emma's Story
a journey to self-love
by Emma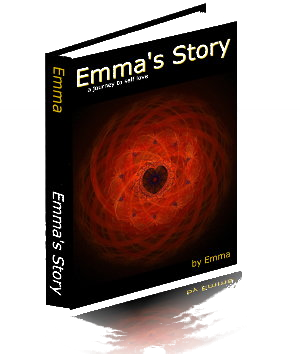 I have a very dear friend by the name of Emma who, some time ago, shared with me a very deep story.
Her story.
I found it to be both heart-wrenching and unbelievably uplifting. In time, as a part of her healing, Emma chose to commit her story to writing. When she shared the manuscript with me I was truly amazed at her ability to tell her story with such clarity, dignity and guts. It was wonderfully written. And more than that it was healing, liberating and helpful to the reader. I felt so powerfully that this story MUST BE READ... that I offered to act as her publisher.
This is a courageous story of self-discovery and transformation. It comes from the standpoint of a young woman struggling with, and overcoming, an eating disorder. And until I heard (and later read) Emma's Story I had no idea how devastating an issue this could be! But amazing as it is that Emma overcame that affliction of her soul, this book is about FAR more than just overcoming eating disorders! This is a triumphant book about self-love and, ultimately, about spiritual ascension. It is a totally amazing story and I am honored that Emma has allowed me to bring the story to you.
I wholeheartedly recommend this little book to you if you are wanting to learn about self-love, self-acceptance and compassion. And if you know someone that is struggling with an affliction that leads them to self-destructive behavior (such as bulimia, anorexia, cutting, addictions, etc) for goodness sake give them this book to read!
After recently editing and revising the book, Emma has generously decided to make it available for free here on my website. Simply "right-click" on this word: "download" and select "save as" or "save link as" to save the PDF booklet to your device.