The Green Lady, Book II
by Lisa Picard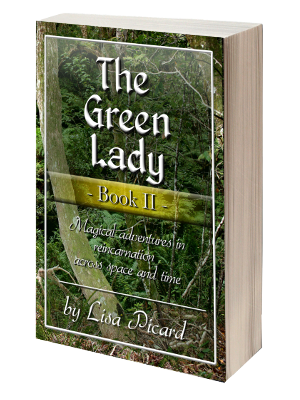 This is the sequel to The Green Lady, a hugely popular collection of magical tales from the forest, written by my beloved friend, Lisa.
This is honestly one of my favorite works of fiction ever. And I'm not just saying that because Lisa wrote it! I say so for two reasons: firstly because these stories encode layer upon layer of truth. Truth about our spiritual nature and existence, truth about humanity and truths about each of us personally as we struggle to find ourselves in this crazy separation reality. It's a fiction tale about a fictitious character and yet it seems to crackle with more truth than most non-fiction works I have ever read. And the second reason I love this book so much is because it is a thrilling, fascinating, fun read. It's just one of those "can't put it down" books!
In Book II, Lisa will take you on a breathtaking adventure across space and time.
Who is the mysterious Green Lady?
And how did she come to be guardian of the forest?
In Book II of the Green Lady the answers to these, and so many other questions, will finally be revealed.
Join intrepid journalist, Peter Allen, on the scoop of a lifetime as, week-by-week, the story of the Green Lady unfolds. Enjoy thrilling tales of seekers and soldiers, of priests and shamans, of aliens and of ordinary human beings, searching for meaning and purpose in their lives.
Allow your heart to be touched and opened by the deepest truths contained within these stories. Find your own perfect purpose in every moment. Allow the Green Lady to lead you to an ever-deepening understanding, love and appreciation of yourself as she shares the story of her own soul journey.
A story as old as time itself...
Find the concepts introduced in my works such as The Ascension Papers coming to life through Lisa's beautifully told stories.
The Green Lady, Book II is available below in paperback and in all major ebook formats.
Paperback Print Copies
The Green Lady, Book II is available to purchase in high-quality perfect-bound paperback print. Order your copy via the PayPal button below.
The Green Lady, Book II is available at all major online booksellers at $15.95 USD. I am offering it here on my website for the same price, PLUS I offer free shipping and handling for all sales, no matter where in the world you live.
AND if you order more than one copy, then I offer discounts of between 10 and 50%.
Please note! The pricing is for economy mail only. There is no tracking and no insurance at this price. If you require premium parcel mail or require a number of copies other than those listed below then please do contact me.
---
The Green Lady, Book II
Paperback version
Fully inclusive of shipping & handling, worldwide

---
Get Your E-Book Copy
The Green Lady is available in all three major e-book formats. Hover over each image below to find the format that is right for you. Click on the paypal button below your chose format to purchase. I will email your ebook to you within 24 hours of your purchase. Additional e-book formats are available from Smashwords.
The Green Lady, Book II

PDF format

$3.99 USD

The Green Lady, Book II

Epub format

$3.99 USD

The Green Lady, Book II

Mobi format

$3.99 USD