The Green Lady
by Lisa Picard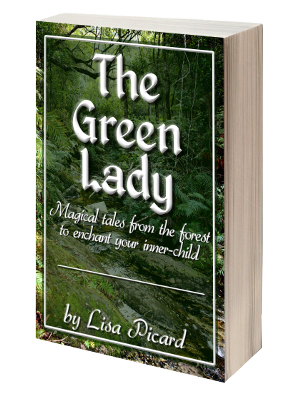 The Green Lady is a book written by my most beloved friend, Lisa. As I am acting as her publisher, it is my great joy to offer this book here on my site. If you would like to delve more deeply into the story behind the book. "meet" Lisa, read her blog, etc then I invite you to visit her website here.
What I love about this book is it takes exactly the kinds of spiritual and metaphysical concepts discussed and described in my works (like The Ascension Papers) and offers them as a delightful collection of fairy-tales set in the Knysna forests here where we live.
If you have enjoyed The Ascension Papers (or any of my other offerings) then you will certainly enjoy The Green Lady! Touching, heart-warming and imbued with great wisdom and truth. But told in such a gently accessible way that you really can share this book with others who are not (yet) on a spiritual path too. Indeed, I do believe this book could be the perfect introduction to the spirituality of Oneness for teens and adults alike.
The Green Lady is available below in paperback or as a free ebook download.
Paperback Print Copies
The Green Lady is available to purchase in high-quality perfect-bound paperback print. Order your copy via the PayPal button below.
The Green Lady is available at all major online booksellers at $15.95 USD. I am offering it here on my website for the same price, PLUS I offer free shipping and handling for all sales, no matter where in the world you live.
AND if you order more than one copy, then I offer discounts of between 10 and 50%.
Please note! The pricing is for economy mail only. There is no tracking and no insurance at this price. If you require premium parcel mail or require a number of copies other than those listed below then please do contact me.
---
The Green Lady
Paperback version
Fully inclusive of shipping & handling, worldwide

---
Free E-Book Download
The Green Lady is available to download for free in all three major e-book formats. Hover over each image below to find the format that is right for you. Right-click on the image and select "save as" or "save link as" to download the ebook to your device. Additional e-book formats are available from Smashwords.
Book II Now Available!
The Sequel to The Green Lady is available here!