New & Exciting
The latest - and most exciting - additions to this website include: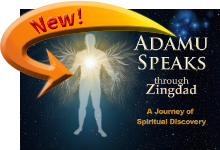 Adamu's written works (longer articles) are available here. These articles will later be published as Book 3 of The Ascension Papers.
And all the Adamu Speaks Videos are here.
The latest Adamu release is:
The video of the fifth of the six sacred steps,
---
The latest blog article is:
Adamu: Why is The Next Release Taking SO LONG?

Welcome!
Thank you for signing up for my newsletter.
As promised I have a "welcome to the family" gift for you: a free guided meditation recording.
Please click here to download your meditation.
{jcomments off}