The Ascension Papers, Book 3
Conversations With ADAMU!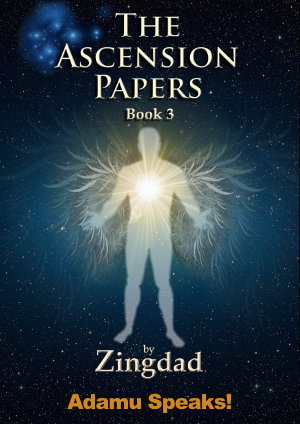 If you have read Book 1 of The Ascension Papers (and the parts of Book 2 that are currently available) then you will know that these books are a record of conversations that I had with my Inner-Self (J-D) and with my spirit-guide (8). Book 3 is different in that I am talking to Adamu.
Adamu speaks for the monadic entity of the Pleiadian civilisation (which is why you can see the Pleiadian star cluster in the top right corner of the book cover). This book ought to be VERY interesting indeed - especially to the many Starseeds currently incarnated here on Earth. Those of you that have not yet encountered Adamu will also be able to do so via the Adamu Speaks series of videos that are also available on my website. Eventually the video material will be merged with the below chapters to form one book of conversations with Adamu.
Though Book 2 is far from completed, I am inspired, at this time, to begin writing with Adamu.
As is my habit, new chapters will be made freely available to read-as-I-write here on my website. When the book is complete it will, as was the case with book 1, be given a thorough edit and be published in e-book and paperback.
Please sign up for my free newsletter of this website if you wish to be updated as new chapters (or new books!) are released.

The Ascension Papers
Book 3
Chapters: